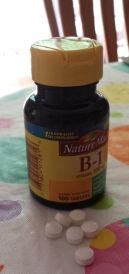 The molecular magnetic field of vitamin B1 also known as Thiamine has been matched as a designer electromagnetic field that can be listened to or for tuning material such as a silicone wristband.
"Thiamine or thiamin or vitamin B1 (/ˈθaɪ.əmɨn/ THY-ə-min), named as the "thio-vitamine" ("sulfur-containing vitamin") is a water-soluble vitamin of the B complex. First named aneurin for the detrimental neurological effects if not present in the diet, it was eventually assigned the generic descriptor name vitamin B1. Its phosphate derivatives are involved in many cellular processes."
One can listen to the designer tone or tune material to the frequency. See "Sample Frequencies" for more information on tuning. The electromagnetic field generated by the electrical coil in your computer speakers is recreating the healing field that your body recognizes. It may be more beneficial to tune a silicone wristband to this frequency.
Designer compound electromagnetic fields have a physiological effect on the body. I know this because of a particular pattern recognition ability I have with weak electromagnetic fields. It is a similar process to that of developing the skill of human echolocation but in this case it is the skill of interpreting weak electromagnetic fields and their physiological effect on the body and most likely other biological life.
You can listen to the "Vitamin B1 as Healing Audio" video here.